Brand & Web Design | Katelyn Barthlome Photography
Katelyn is someone I've know for quite some time, so I was thrilled when she wanted to work together! As a fellow creative and friend, Katelyn is someone who I rather enjoy going on coffee dates with to chat about our latest endeavors (As a creative, having friends who understand the struggles you face with creative work is such a blessing!). She also happens to be quite a talented photographer! This new brand and website is one that I am proud to add to my portfolio. Today I'll show you all the lovely details of the design and walk you through the entire process!
When Katelyn and I first started talking about her redesign she mentioned that although her site was fairly easy to navigate it had acquired quite a bit of clutter. She had too many ideas and was unsure of how to organize them. Our goal was to cut out the clutter, instantly taking the website and brand from amateur to professional. She used words like clean, light, fresh, natural and timeless to describe her ideal brand. With Katelyn's photography being adventurous and heavily candid, the images definitely stand on their own and we didn't want to distract from them. The biggest vision was for the website to reflect her unique photography style and personality, but not feel an ounce overdone.
I kept that important vision in mind as I pulled images for the Katelyn Barthlome Photography inspiration board. From the items Katelyn had pinned to our shared pinterest board, I chose pictures that felt fresh, natural, adventurous, and feminine. I knew immediately that Katelyn was drawn to deep, rich teals, golds, and pale pinks and greens. I stuck with I color palette that reflected this and emphasized a fresh and natural mood. A heavy emphasis was put on white space to balance the bold colors and keeps things light and clean.
With Katelyn on board with the design direction, I then got to work conceptualizing the brand and drafting logo options. Katelyn had mentioned that she really enjoyed both hand drawn accents in logos and watercolor elements. I gave her three different options with that in mind. The first logo concept heavily featured hand-drawn accents which I felt could be used elsewhere — in an alternative logo and as accents around the website. It was the most original and feminine. The second logo was the simplest, a script font drawn with a watercolor brush, and would likely need an addition of stronger brand elements around the site. The third option was Katelyn's favorite. It featured a splash of teal watercolor, with her initials overlayed (I got this idea because she was previously branded KB Photography instead of Katelyn Barthlome Photography), and featured her name below in all-caps. Simple. We both agreed this option looked the most professional and had the most potential for brand-longevity.
Now that both the brand style board and the logo were in place, the website was so much fun to design! I keep things very clean and bright, as Katelyn wanted, all while still bringing in splashes of the bold color palette throughout the various pages of the website. The new website design achieved all of Katelyn's goals; everything is easy to navigate, there isn't any clutter taking away from the photography (that is heavily showcased), and every page feels fresh, clean and professional.
The slideshow of screen-shots below, from the new Katelyn Barthlome Photography website, don't do it justice! Head on over there to see the whole thing in action, meet Katelyn, and browse through galleries of beautiful and inspiring photography!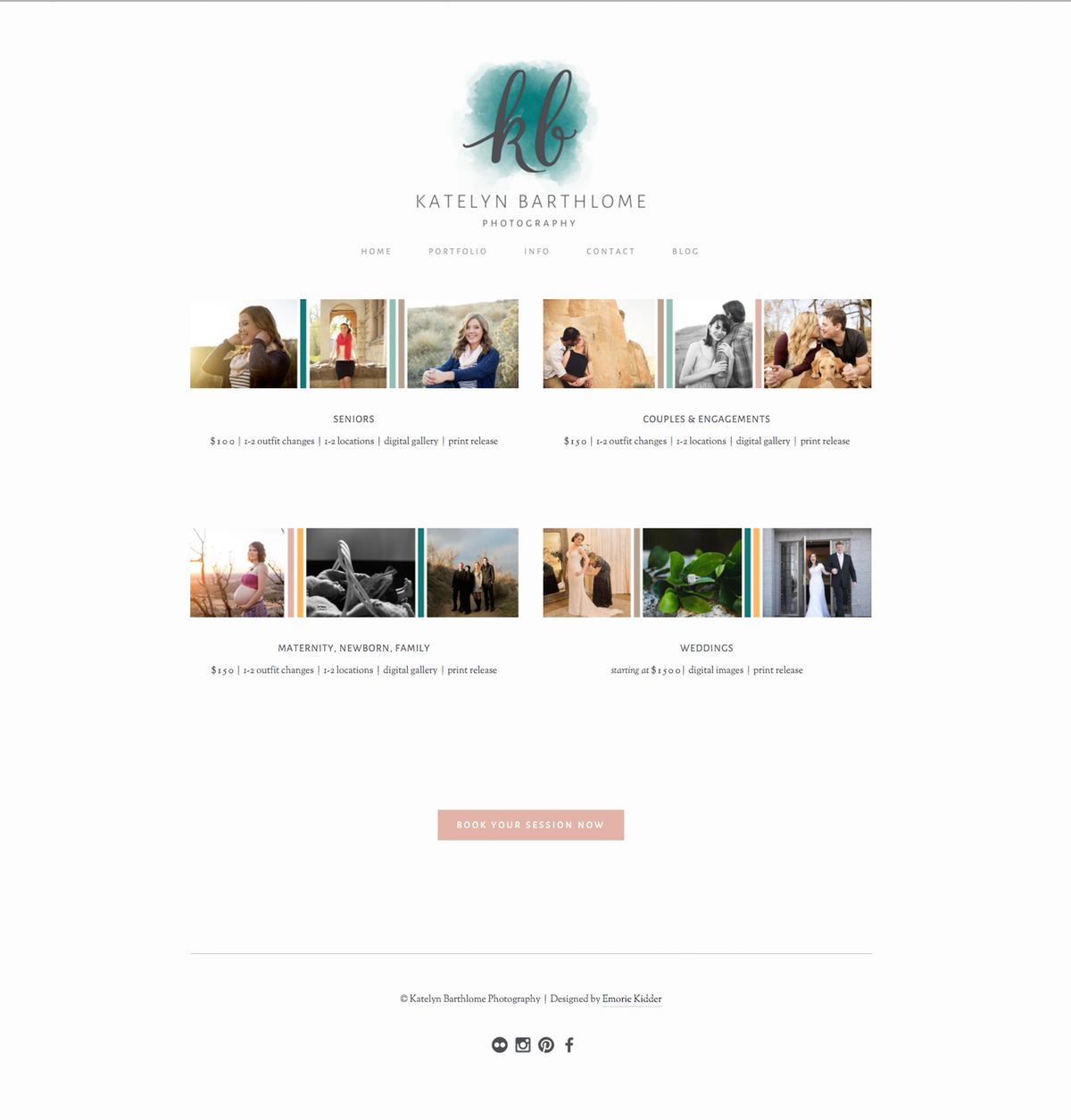 Working with Katelyn the past few weeks on this project has been a dream! Most of all, I'm am thrilled that Katelyn is pleased with the final outcome and now has a beautiful brand and website that reflects and showcases her photography!
Interested in working with me for the design of your brand and website? Visit my Design Services page for more information, my Portfolio to see more of my work, and the Contact page to get in touch!